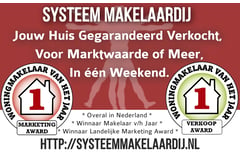 Systeem Makelaardij
Jouw Huis Gegarandeerd Verkocht, Voor Marktwaarde of Meer, In één Weekend
About us
Winnaar:
Woningmakelaar van het Jaar
Landelijke Marketing Award
Jouw Huis Gegarandeerd Verkocht, Voor Marktwaarde of Meer, In één Weekend.
Meer info? Kijk op http://systeemmakelaardij.nl.
What we do
Specialisme

Verkoop

Certificering

NVM

Diensten en specialismen

Maximale opbrengst

Website

Gratis rapport en info voor verkopers

Diensten

Gratis info over snel verkopen
Sint Barbarastraat 134,
6415 RZ Heerlen
Today opened until 22:00, available by phone until 17:00
All contact details
Reviews
Wij zijn super tevreden over de snelle verkoop en de opkomst bij bezichtiging en uiteindelijke opbrengst heeft ons boven alle verwachtingen verrast. A...
Error while loading the page. Please try again.